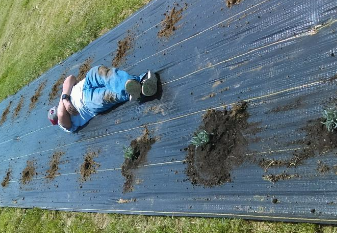 Purple Rain Lavender Farm is a small farm in Harford County, Maryland. The farm has a seventy five year history of raising horses and growing crops in Harford County, Maryland. In 2007 our family moved back to the farm and began re-structuring the farming business. The young family found new opportunities to expand sustainable farming efforts and increase environmentally friendly practices. Additions of solar, pollinator habitats, natural areas, and farm educational visits were the beginnings of the "Good Farming ECS" vision. The "Good Farming ECS" vision is based upon three pillars:
1. Good for the Earth - with sustainable farming we walk the land each day as our family walked these same fields but now, leaving little to no footprint that won't go back to the earth the way God intended
2. Good for the Community - helping those who want to learn, experience, and enjoy the beauty of nature for a moment, an hour, a day in life's journey
3. Good for the Soul - We work closely with local charities and non-profit organizations to support and enrich the fabric of our community. Our family has been dedicated to volunteerism for several generations and continue that practice today with our fire deparments, and other non-profit organizations in our area. We are proud to contribute to fundraisers and events around the county and neighboring communities with our lavender in-kind donations.
We want to weave a thread of lavender compassion and caring for many generations to come.
2022-2023 Purple Rain Lavender Farm, LLC. All Rights Reserved.